Keeping up with the Joneses -- world-renowned Manhattan plastic surgeon Dr. Michael Jones and Emmy-winning journalist and actress Cathleen Trigg-Jones -- is no easy task as they juggle the demands of a bustling practice, a growing production company, two kids, and friends who count on them. This docuseries follows the inspirational work and private lives of the New York power couple, who run a multimillion-dollar cosmetic surgery practice, among other endeavors, while trying to carve out time together with their kids, Christian and Olivia. Each episode includes an emotional journey experienced by one of Michael's patients. Dr. Jones is noted as a pioneer in surgery for darker skin types, and his research has led to advancements such as a scar-free rhinoplasty procedure.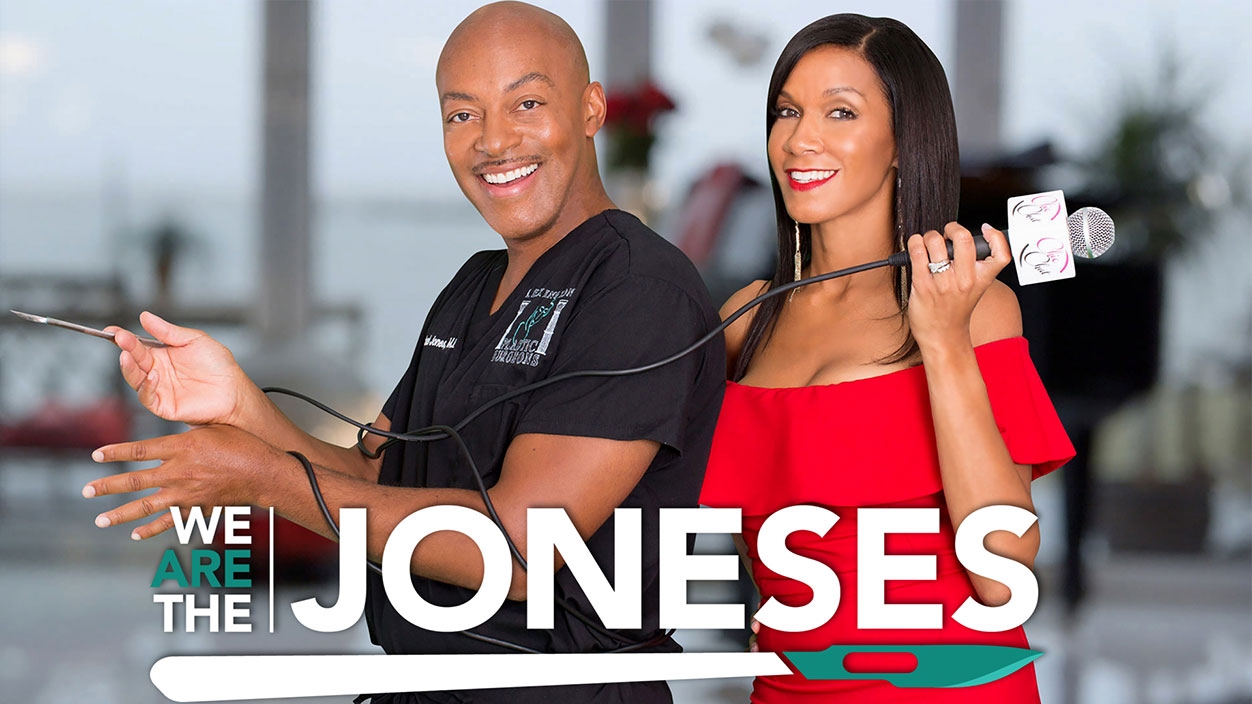 Surgery on Dr. Jones's extreme keloid patient turns from two hours—to six! Can Dr. Jones compose the Chic Chat theme song in time for the website launch party? Because Cathleen's talk show, her lifelong dream, is about to get the kickoff it deserves!
A transgender woman who needs to reclaim her life comes to Dr. Lee to fix botched facial work. Cathleen builds her green screen studio—but can she get it running? And, it's round two of corrective surgery, for the patient with giant facial keloids!
A tummy tuck gives Juliet confidence to face her painful past... And when Kim wants bigger breasts, her mammogram leads to a health scare! Then, date night becomes a face off! Should the Joneses open a practice in Miami, or build a production studio?
Two sisters call on Dr. Ende for matching facelifts... Dr. Jones tries to find his wedding ring before Cathleen discovers he lost it again! And with the Chic Chat launch party coming up, how does Cathleen deal with the stress? With a Girls Night In!
Cathleen wants to make a keloid treatment video for the practice, but she also wants to focus on her talk show... A man who lost over 100 pounds comes to Dr. Jones with drooping skin... And the star of the keloid video returns, for another procedure!
Pamela suffers chronic pain after a work accident. She wants a new face to help her feel better about herself, so she schedules five procedures for the same day! And then, all the votes are in: the "Ideal Butt Model" contest winner is finally revealed!
Catherine wants a booty like her grandma's, and Kerry wants a butt like J-Lo, to bring back her husband's wandering eye! Can Dr. Jones deliver both the looks that the ladies are after, and still pull off the ultimate surprise for Cathleen's birthday?
The Joneses are at a loss! Just as the end is in sight, construction on the D.C. surgical center grinds to a halt! And Cathleen and Staci team up, to prank Dr. Jones! But will Staci finally get her eye procedure, or just another eyeful of Dr. Jones?
Dr. Jones offers new hope to a patient suffering with giant facial keloids—after other surgeons have turned him away! And tennis with friends becomes a little too competitive for Cathleen, but it also leads to good advice about her adoption search...
A woman who was bullied about her nose all through childhood, gets a new face from the dream team! And family time on the Jones's boat brings a show of support, when Dr. Jones encourages Cathleen to continue her search for answers about her adoption!
Construction of the surgical center at the Jones's D.C. practice is stalled! But it takes a blood pressure scare to stop a patient with eyes for Dr. Jones, and more than surgery on her mind! Then Cathleen finds a new clue about her biological family!
Cathleen catches up with her old friend the Kangol Kid, when his wife comes to Dr. Jones and reveals a lifelong insecurity over a very private condition. And Cathleen finally starts to come around, as the "Ideal Butt Model" semifinalists are announced!
Meet the power couple next door, as they try to keep up. A woman who thinks she looks like Sponge Bob, wants to look good in round pants! Cathleen shoots a talk show pilot! And Lexington Plastic Surgeons launches a search for the "Ideal Butt Model"...
JOIN THE iWOMAN COMMUNITY